Društvo Roots Promotions in MKUD Kladivo 11 tokrat vabita v konjiški MC Patriot na prvi Roots in the Woods preparty

. V goste prihaja Radikal Guru, podpirali pa ga bodo Peacemessenjah Soundsystem in Three Kings Soundstation na kombiniranem zvočnem sistemu (Peacemessenjah + Three Kings).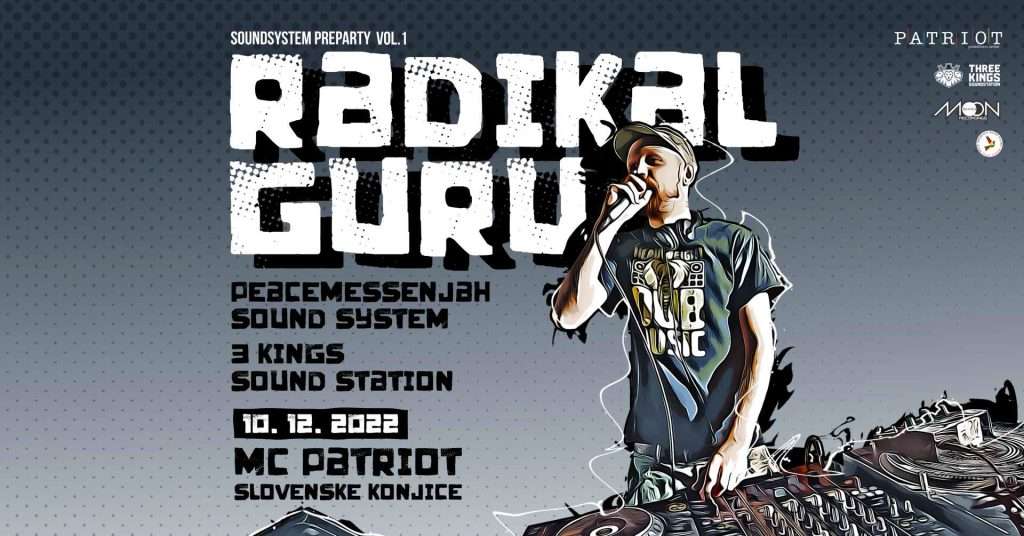 Radikal Guru, ki pod vplivom roots reggaeja ustvarja fuzijo glasbe, v kateri se prepletajo dub, reggae in dubstep, je eden najaktivnejših pripadnikov underground skupnosti. Pod močnim vplivom King Tubbyja in Scientista je pridobil svetovno slavo in prepoznavnost z nizom vinilnih izdaj na vodilni reggae/dubstep založbi Dubbed Out, nato pa je sklenil partnerstvo z Moonshine Recordings, kjer je nadaljeval in utrdil svoj sloves enega najmočnejših zagovornikov scene.
Njegova diskografija Moonshine se ponaša z vrhunci, ki vključujejo njegov LP 'The Rootstepa' in mogočno 'Dread Commandments' 12″. Ni le nadarjen producent, pač pa tudi izvrsten selektor, ki širi svojo strast do glasbe skozi svoje sete, ki presenečajo z najbolj svežimi zvočnimi inovacijami.
Da bi širil pozitivne vibracije, je prepotoval veliko sveta. To vključuje nedavnime nastope s kolegom Cianom Finnom na legendarnih dogodkih Subdub in Tokyo Dub, nastopal pa je tudi na Outlooku in Boomtownu. 


 Karte za dogodek so na voljo v preprodaji (8 eur), na prizorišču pa bo vstopnina znašala 10 eur.
Zastonj na koncert? Z nami lahko!
Za vse, ki sledite našemu portalu, pa smo pripravili nagradno igro skupaj z organizatorjem, v kateri vam podarjamo zastonj vstopnico, Roots in the Woods majico ter persanolizirane papirčke z motivom festivala!
Da bo vse to vaše, morate deliti Facebook objavo iz naše FB strani, in se v komentar "pofočkati" da ste to tudi naredili. Komentirate lahko kar hočete, še najraje vidimo, če objavite vašo najljubšo pesem, za katero stoji Radikal Guru, da se ogrejemo na ta poseben dogodek, ki kot prvi napoveduje novo festivalsko sezono. Objavo, katero je potrebno deliti, najdeš tudi pod tem zapisom!
Zmagovalca/ko razglasimo 1.12.2022, in bo določen/a na podlagi naključnjega žreba!