Banana Zvuk Legaliziraj Remixes EP is available now for pre-orders! Legaliziraj Remixes EP will, in the tradition of reggae and sound system culture, appear as a set of 7" vinyl singles in 2 different variants:
original + remix on 8 individual 7 "singles
 box with five 7" singles, which contains the original + 8 remixes
Link for pre-orders -> https://bit.ly/legaliziraj_pdv_preorder
Shortly afterward, the release will appear on all digital services on April 20th.
This release will not be available in distribution and stores, but exclusively in the PDV record store (Zagreb, Croatia), through the PDV webshop, PDV, and Banana Zvuk Bandcamp site, and at their live performances.
Remixes that will be found in the box, and individually on 7″ singles are:
1. Banana Zvuk feat. Popay, Chakka & Žan – Legaliziraj (Verandabeatz RMX)
Dejan Dedović – Deda is a member of the Montenegrin hip-hop band Who See, editor of the radio show Lionstyle (Radio 808) and a great connoisseur of reggae music.
2. Banana Zvuk feat. Popay, Chakka & Žan – Legaliziraj (Fokus RMX)
Ivan Andrijašević aka Fokus is a Serbian producer, graffiti artist and DJ who has been involved in music since 2003. He developed his solid musical foundation into dub, dubstep and finally reggae influenced by drum 'n' bass.
3. Banana Zvuk feat. Popay, Chakka & Žan – Legaliziraj (Dr.Obi RMX)
Dr. Obi started his career in 2005 in the still active Jahstice Sound project, and he is also part of the Digitron Soundsystem. This top sound engineer and sound designer is currently the Seasplash Festival's chief sound technician, a member of Bamwise dub band and the duo Dr. Obi & Anja G and co-founder of the Amplifyah music label.
4. Banana Zvuk feat. Popay, Chakka & Žan – Legaliziraj (Banana RMX)
Producer and DJ duo Luka Barbić (TBF) and Ivan Yuri Jurić (ST! LLNESS) bring a remix of their song, this time in d'n'b rhythm.
5. Banana Zvuk feat. Popay, Chakka & Žan – Legaliziraj (Jah Billah RMX)
Jah Billah has been a digital dubber, rhythm producer and music selector since 2007. He started as an online open source activist and over the years built his original style in which he turned one drop riddim into steppers, steppers into breaks, breaks into half-step and again into a circle with the motto "60,000 versions come to play!"
6. Banana Zvuk feat. Popay, Chakka & Žan – Legaliziraj (RootsInSession RMX)
RootsInSession is one of the most famous Balkan sound systems and production duos that recently marked 20 years of working. They are known for remixes of world and regional musicians, and for the past two years they have been turning more and more to authorial work.
7. Banana Zvuk feat. Popay, Chakka & Žan – Legaliziraj (Marcus G RMX)
Marko Gaćina aka Marcus G has been present on the scene since the mid-1990s, he has been producing for the last twenty years. He is the frontman of the band Brain Holidays, with which he has five studio albums. He occasionally teaches production at the MPA Academy.
8. Banana Zvuk feat. Popay, Chakka & Žan – Legaliziraj (Grabber RMX)
Marco Grabber is a versatile artist who signs under numerous regional projects and collaborations. His unique engagement has contributed to the development of the electronic music scene in Croatia.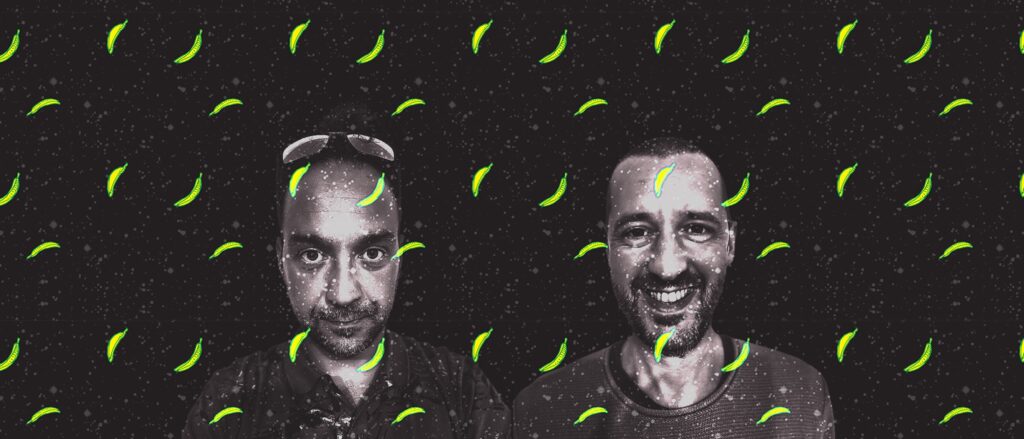 At a time when news is coming from all over the world about the full or partial legalization of cannabis, and when there is more and more talk in Croatia about new legal regulations for its cultivation and consumption, society is becoming aware of all the benefits of this plant. In this light, with the aim of raising awareness about the benefits of legalization, Banana Zvuk with Popay, Chakka and Žan Jakopač, is launching the third single Legaliziraj from the current album Roba.
Banana Zvuk is a Croatian Reggae producer, DJ and MC duo; they are engaged in researching Reggae, Hip-hop, Dub, Drum'n'bass, Dancehall and Jungle music. Banana Zvuk's first album Split Banana, released in 2018, was nominated for Album of the Year by the prestigious European reggae music portal Reggaeville, in 2020 they released the compilation release Re-Shake!, and the current studio album Roba, was released in the second half of 2021.
Banana Zvuk on network:
 https://linktr.ee/Banana_Zvuk