JANUARJA NAPOVEDAN ŽE DRUGI ROOTS IN THE WOODS PREPARTY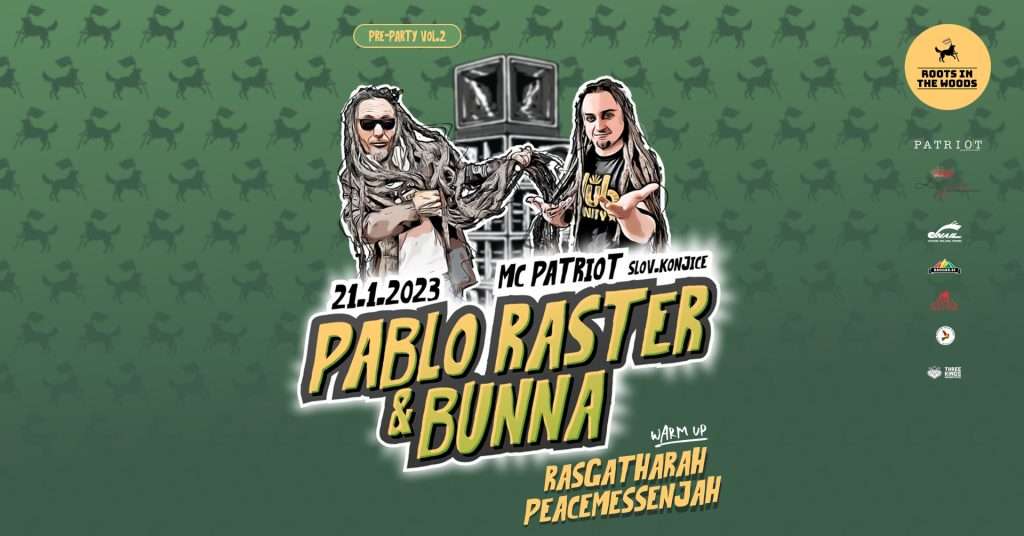 Roots in the Woods festival so napovedali nov preparty, ki se bo zgodil 21. januarja 2023 v MC Patriotu v Slovenskih Konjicah. Naj se spomnimo, da je to že drugi preparty letos. Prvi se je zgodil 10. decembra, na katerem je nastopil Poljak Radikal Guru ob spremstvu domače zasedbe Peace Messenjah in Three Kings, ki sta tudi v kombinaciji svojih sound systemov omogočila zvok in vibracije. V tem članku lahko najdete galerijo fotografij, ki so bile posnete na omenjenem dogodku. V tokratni izvedbi pa so v goste povabili Italijana Pabla Rasterja in Bunno, oba izhajajoča iz reggae banda. Pablo je deloval v reggae bandu RasteR, s katerim je posnel 7 albumov in izvedel več kot 1000 koncertov tako v Italiji kot v tujini. Kasneje se je lotil dub produkcije. Njegov stil ne temelji zgolj na post-jamajških težkih basovskih linijah, temveč vanj vključuje tudi drugačne stile produkcije glede na njegove izkušnje. Bunna pa je prepoznan kot pevec italijanskega reggae, dub in rocksteady banda Africa Unite, še vedno aktivnega od leta 1981. Od leta 1994 do 2006 je kot basist in vokalist sodeloval pri ska, rocksteady in bluebeat bandu Giuliano Palma & the Bluebeaters.
Tudi tokrat bo publiko pred nastopom italijanskih glasbenikov ogrevala domača zasedba Peace Messenjah, tokrat pa so povabili še starega znanca Rasgatharah. Na ta večer bodo skupaj tresli kombinacijo Peace Messenjah in Three Kings sound systemov. Dogodek se prične ob osmi uri zvečer.
Vstopnina znaša 5 €!
Vabljeni!