V zadnjem času je Roots in the Woods festival dodal še 2 imeni na seznam nastopajočih za letošnji festival.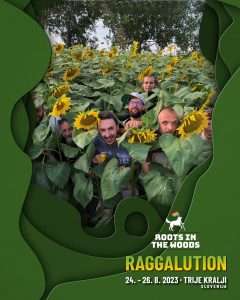 To je avstrijski selektor Ras Ikel in pa naš slovenski reggae band iz Kranja – Raggalution, ki na festivalu še niso nastopili.
Ras Ikel je selektor, strasten zbiralec vinilk in ambasador roots reggae-ja. V njegovem izboru lahko slišite predvsem roots reggae iz 70. in 80. let, ki nosi močno rasta sporočilo. Prav tako rad vrti dub melodije z duhovnimi besedili in pozitivnimi vibracijami.
Ras Ikel igra skladbe v slogu King Davida – uporablja samo 1 gramofon, predojačevalec in sireno ter glasbo predvaja v svoji najčistejši in izvirni obliki. Ras Ikel je ustanovni član skupine Roots & Culture, ki organizira sound system srečanja na Dunaju in je leta 2021 začela tudi sound system festival Dub Vibration. Vodi redno radijsko oddajo na Real Roots Radiu, kjer ga lahko ujamete vsak drugi ponedeljek od 19.30 do 21.00.
Kranjski Raggalution od leta 2011 mešajo svojo reggae čorbo, začinjeno z dubom, funkom in ščepcem psihadelije. Z rednim touranjem so svoja studijska albuma, Mask of Liberty (2013) in Gatekeeper (2017), ponesli od Grčije do Nizozemske ter povsod vmes. En del svojih avantur so ujeli v videu za single Ancestors, trenutno pa se sem in tja pojavijo za kakšen butični nastop. V letu 2022 so večino energije posvetili snemanju tretjega studijskega albuma, ki bo izšel kasneje v tem letu.