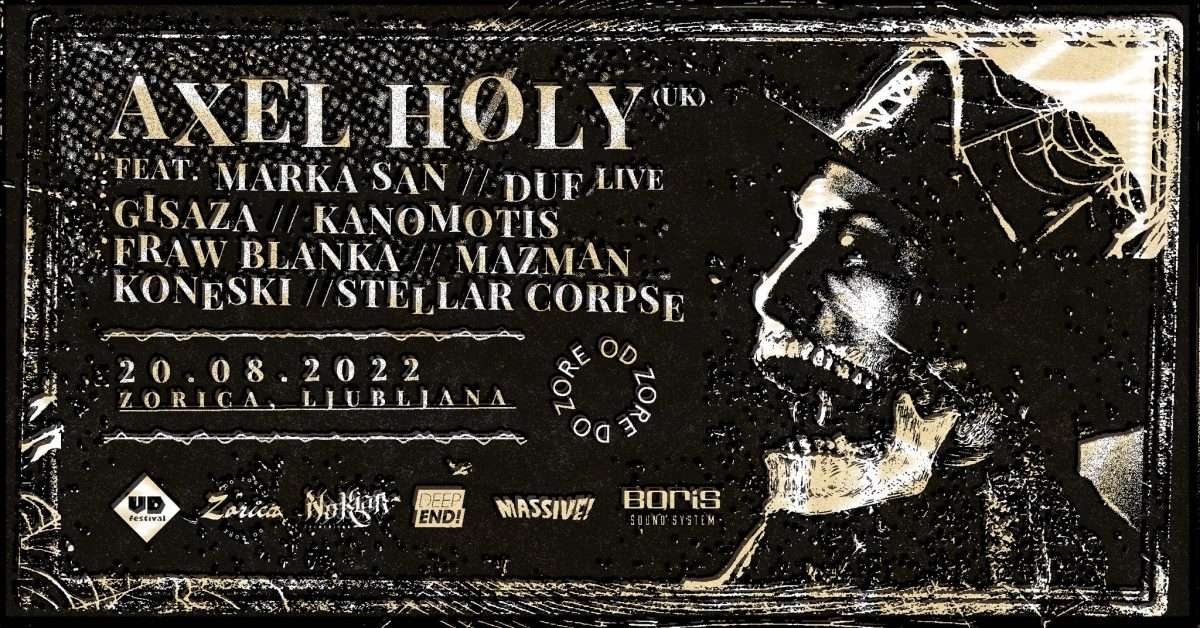 UD X DeepEnd! X NOKLAN X MASSIVE!
Tokratni dogodek je showcase treh založb z različnim naborom glasbe in glasbenikov. DeepEnd!, NO KLAN in Massive! so še kako povezane, preko gostitelja MARKA SAN-a, ki bo vse tri povezal na odru Zorice.
Za ta poseben dogodek, namenjenem vsem ljubiteljem bass glasbe, bo iz Bristola priletel AXEL HOLY. Ta premierni obisk se bo zgodil z namenom predstavitve skupnega projekta. To bo tudi prvič, da bosta glasbenika skupaj stala na ljubljanskem odru.
AXEL deluje tudi pod psevodinimoma BAILEYS Production in pa Dedw8, ki sta v preteklosti sodelovala z Lee Scott-om (UK) in pa osnovnim članom GRISELDA records Conway The Machine in mnogimi drugimi, z izdajami na Potent Funk Records (UK), Split Prophets (UK) in drugimi. To za nas pomeni, da lahko pričakujemo zelo žanrsko raznolik nastop začinjen z globokim bassom.
Prvič v Zorici tudi Live act DUF (dead undergroun future). Glasbeni projekt, katerega protagonist je Jaka Berger aka BRGS, ki je tudi član kolektiva NO KLAN.
MARKA SAN-u se bodo na odru pridužili še vokalisti FRAW BLANKA, MAZMAN in STELLAR CORPSE. Z vsemi naštetimi je sodeloval na njegovem prve beat tape-u (Semi Beat Tape vol.1)
Za warm up bo poskrebel KONESKI z Reggea in Dub maniro kot se za MASSIVE! založbo tudi spodobi in na koncu udarni konec dogodka z DeepEnd! članoma GISAZA in Kanomotis.
Vse skupaj bo podprto z Boris Sound Systemom.
Dogodek je organiziran v sodelovanju z Urbanim Dejanjem.
__________________
VSTOPNINE NI!
ZORICA / LOK4CIJA
Kersnikova 4, LJ
INFO & REZERVACIJE: info@lok4cija.si // 051 343 860