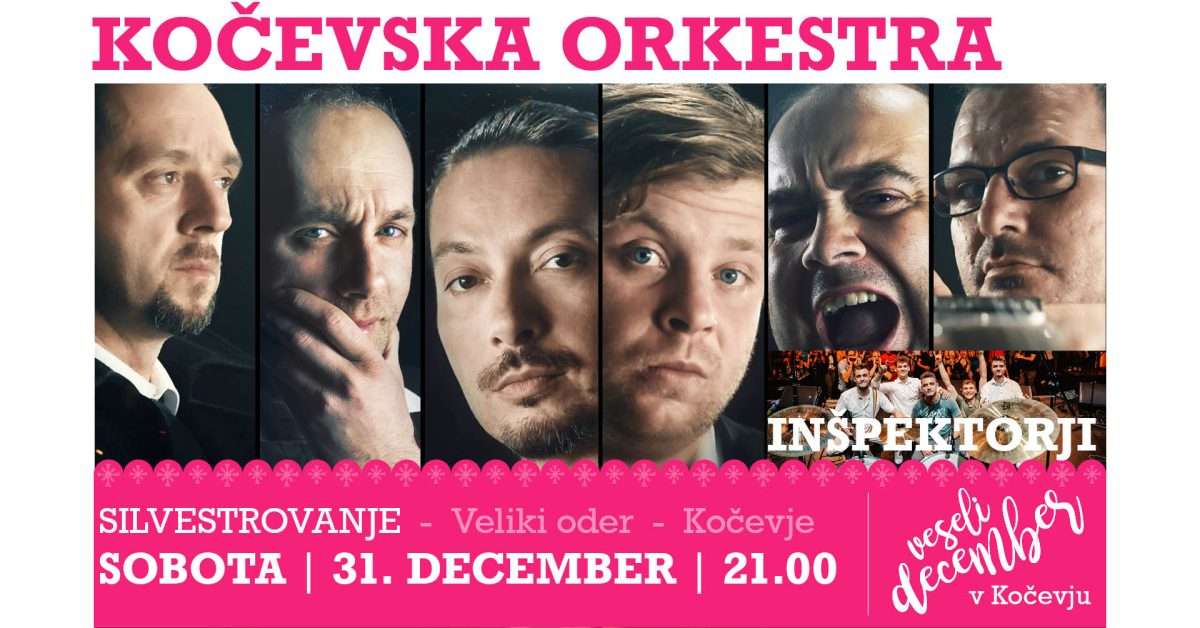 SILVESTROVANJE V KOČEVJU S KOČEVSKA ORKESTRA IN INŠPEKTORJI
Najdaljšo noč v letošnjem 
 letu bomo v Kočevju pričakali v družbi dveh lokalnih skupin – 
 KočevSKA orkestra 
 in 
 Inšpektorji 
, s katerimi boste lahko zaplesali, nazdravili in odštevali do novega leta.
 KočevSKA orkestra 
 je ska, reggae in rocksteady skupina iz Kočevja, ki je bila ustanovljena leta 2017. Člane druži ljubezen do preigravanja skladb izvajalcev kot so Toots and the Maytals, The Skatalites, Desmond Dekker, Jimmy Cliff, The Specials, njihova posebnost pa je posebna energija, ki poslušalcev ne pusti pri miru.
Člani KočevSKA orkestra so:
Semo – lead vocal
Kris – kitara
Gagi – kitara
Ige – bas
Maksi – saksofon
Dule – boben
 Inšpektorji 
 so mlada Kočevska rockovska skupina, ki uživa v preigravanju pesmi, ki so nastale v času bivše skupne države Jugoslavije. Petčlansko zasedbo sestavljajo mladi fantje, polni energije, ki so jo željni pokazati publiki. Yugo-rock, ki je zapečatil srca njihovim staršem tudi njim predstavlja neizmerno veselje, s preigravanjem vsem dobro znanim skladb pa želijo tudi sami prispevati svoj delež k ohranjanju te glasbe.
Inšpektorji so:
Miha Mihelič – Solo kitara
Tim Klun – Ritem kitara, vokal
Rok Lužar – Bobni
David Lužar – Bas kitara
Lovro Ponikvar – Vokal
 Vabljeni, da skupaj s KočevSKA Orchestra in Inšpektorji, v soboto, 31. decembra, na velikem odru na zelenici pri Srednji šoli Kočevje, zaplešete v novo leto!