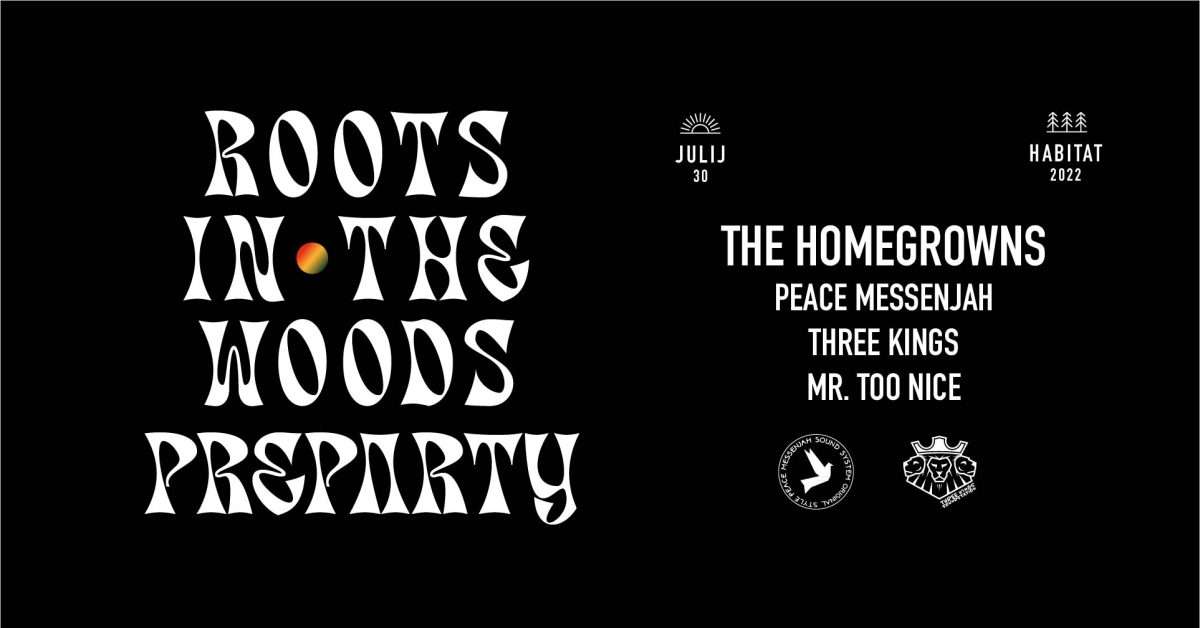 ROOTS IN THE WOODS PREPARTY
Evo nas, evo vas – do našega snidenja na Treh Kraljih je še okrog 984 ur, zato je skrajni čas, da vas malo predfestivalsko napalimo.
Pred Habom bomo v soboto slišali novonastali reggae band The Homegrowns, ki so svoje korenine začeli poganjati šele pred kratkim. So vedno razvijajoč se projekt jamajške glasbe s koreninami v zaspanem mestu Radeče in vejami po celi Sloveniji. Radeška trio zasedba je proti koncu 2020 začela s snemanjem avtorskega materiala, vmes pa zaman iskala pot do igranja pred publiko, v živo. S pomočjo post produkcije so v marcu 2022 izdali tri single, ki je zasedbi prinesla novo energijo in sodelovanje z novimi glasbeniki in na koncu dokončne formacije v bend. Pred koncertom nas bodo ogrevali slovenjgraški Peacemessenjah Soundsystem in zreški Three Kings Soundstation.
Po koncertu se selimo v čisti center našega mesta, direkt pri konju levo, v Exatlon. Tam nam bodo Mr2nice in Peacemessenjah Soundsystem postregli s težkim dubom, osebje Exatlona pa s trenutno najboljšim plesiščem v Slovenj Gradcu in široko paleto alkoholov za pogum na plesišču.
Na dogodku se bodo prodajale festivalske vstopnice in Roots in the Woods merch.
Tehnikalije:
Štart: 17:00
Vstopnina: 5€