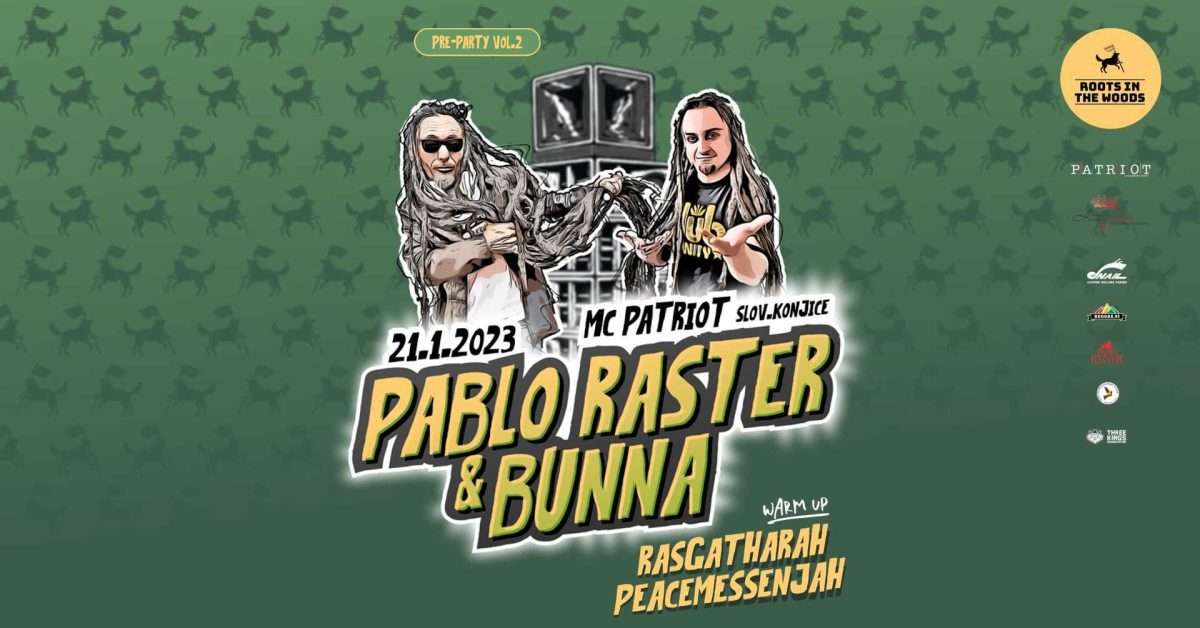 ROOTS IN THE WOODS 2023
ROOTS IN THE WOODS 2023
24. 08.-26. 08. 2013
TRIJE KRALJI 
#RTCJakec
, SLOVENSKA BISTRICA, SLOVENIJA
ROOOOOOTS,
kot smo vam že namignili, avgusta prihaja 5. edicija festivala 
reggae in sound system kulture
 ROOTS IN THE WOODS 2023!
Z vsakim letom festival raste in širi svoje korenine.
 Skupaj bomo spet ustvarjali dragocene trenutke v neokrnjeni naravi v zavetju pohorskih gozdov.
Poleg blagodejnega umika v naravo se bomo naplesali, razigrali, ustvarjali ter spoznavali sebe in druge.
Kot vsako leto bo pod sponzorstvom Občine Slovenska Bistrica organiziran tudi brezplačen "poletni avtobus" na relaciji Slovenska Bistrica -Trije Kralji -Slovenska Bistrica.
Nekaj osnovnih načel festivala:
 je okolju prijazen,
 je družinam prijazen,
 psi so dovoljeni,
 podpira ženske izvajalke!
Line-up in program bosta objavljena naknadno. Program bo vključeval veliko pestrih dnevih delavnic za odrasle in otroke. Spremljajte naše objave za prve napovedi!
Cene vstopnic:
SUPER EARLY BIRD (prvih 50 vstopnic!!!): 40 €
PRESALE (do festivala): 60 €
NA FESTIVALU: 80 €
*Cena vključuje kampiranje, parkiranje avtomobila in uporabo sanitarij.
Se vidimo – spet – med krošnjami in koreninami
ROOOOOTS!
As we already hinted, the 5th edition of the 
reggae and sound system culture festival 
ROOTS IN THE WOODS 2023 is coming in August!
Every year the festival grows and expands its roots.
 Together we will once again create precious moments in pristine nature in the shelter of Pohorje forests.
 In addition to a beneficial retreat into nature, we will also dance, play, create and get to know ourselves and others.
As every year, under the sponsorship of the Municipality of Slovenska Bistrica, a free "summer bus" will be organized on the route Slovenska Bistrica – Trije Kralji – Slovenska Bistrica.
Some basic principles of our festival:
it is environmentally friendly,
 it is family friendly,
 dogs are welcome,
 it supports female artists!
The line-up and program will be announced soon. The program will include many varied workshops for adults and children that will take place throughout the festival days. Follow our posts for the first announcements!
Ticket prices:
SUPER EARLY BIRD (the first 50 tickets): 40 €
PRESALE (until the beginning of the festival): 60 €
AT THE FESTIVAL: 80 €
*The price includes camping, car parking and use of toilets.
See you – again – between the canopies and the roots