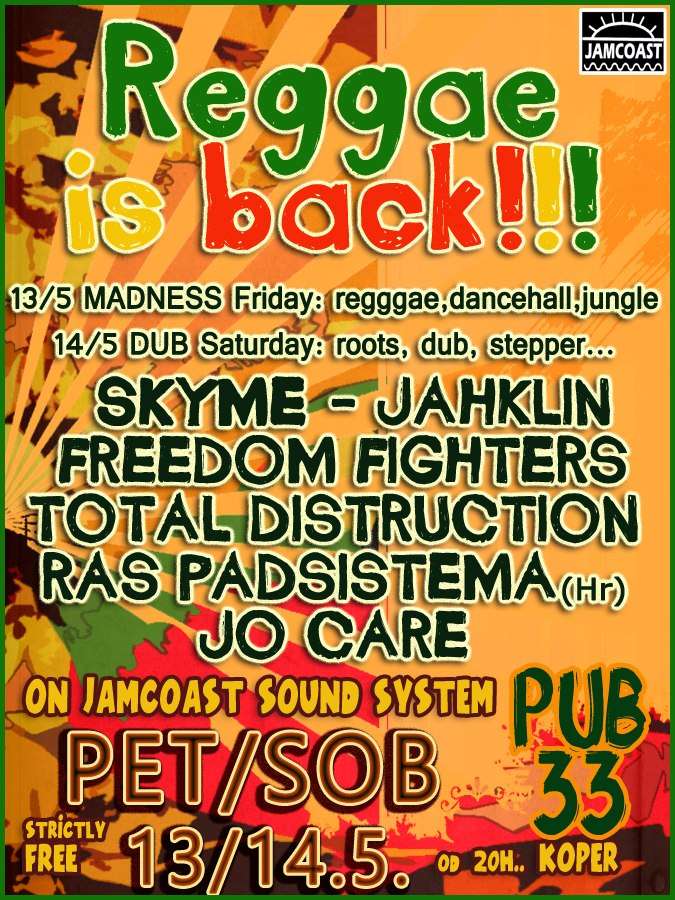 Reggae is Back! Pub33
Pozdravljeni dobri ljudje, po dveletnem prisilnem premoru se Jamcoast ekipa vrača nazaj v legendarni Pub33.
Ker ena fešta ni dovolj bomo naredili kar dve.
MADNESS Friday(petek 13.5.): reggae, dancehall, dnb/jungle, bass music….
DUB Saturday(sobota 14.5.): roots, dub, stepper…
Za noro dobre vibracije bomo poskrbeli:
– Freedom Fighters
– Jahklin Selekta
– Total Destruction
– Skyme
-JoCare
-Ras Padsistema (Hr)
Cel dogodek se bo odvijal na Jamcoast sound sistemu.
Dogodek je STRICTLY FREE!
Wake the town tell the people!
Put on your dancing shoes! 
RESPEKT & 1