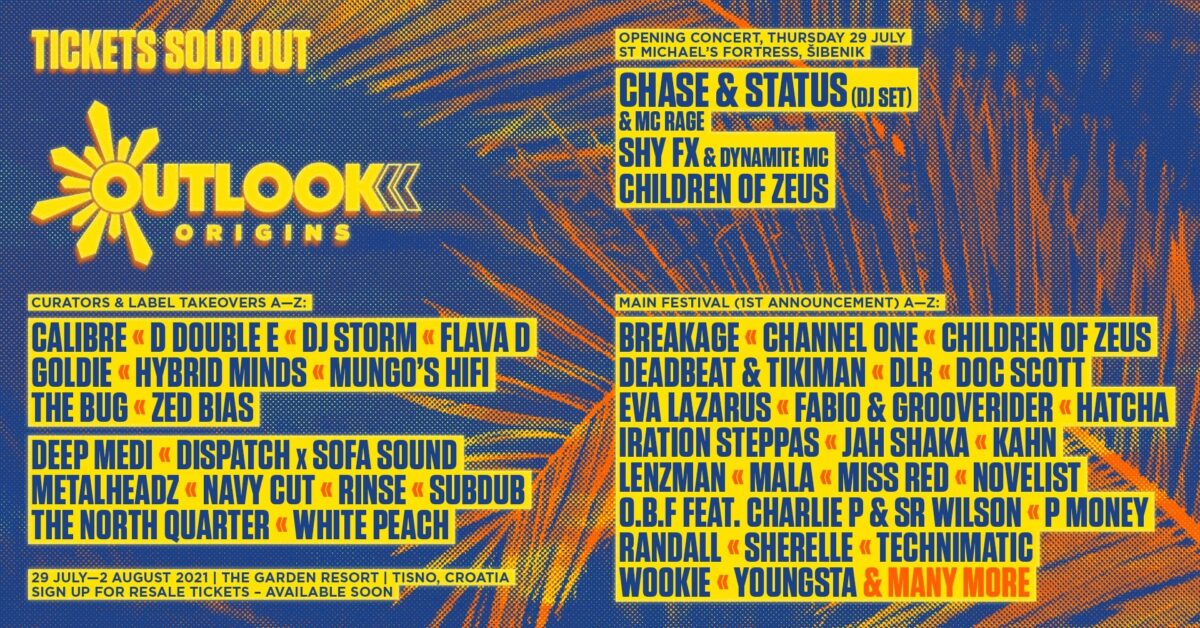 Outlook Festival 2021: Origins
OUTLOOK FESTIVAL 2021 IS SOLD OUT!
Limited numbers of tickets will be available in the coming weeks, following unclaimed deposit tickets. Sign-up to our Ticket Resale system below for access: 
http://eepurl.com/hs-CND
FIRST NAMES, CURATORS AND TAKEOVERS ANNOUNCED!
Opening Concert: (SOLD OUT)
Chase & Status + MC Rage
Shy FX + Dynamite MC
Children Of Zeus
CURATORS AND TAKEOVERS:
CALIBRE
D DOUBLE E
DJ STORM
FLAVA D
GOLDIE
HYBRID MINDS
MUNGO'S HIFI
THE BUG
ZED BIAS
DEEP MEDI
DISPATCH X SOFA SOUND
METALHEADZ
NAVY CUT
RINSE
SUBDUB
THE NORTH QUARTER
WHITE PEACH
FIRST NAMES A-Z
BREAKAGE
CHANNEL ONE
CHILDREN OF ZEUS
DEADBEAT & TIKIMAN
DLR
DOC SCOTT
EVA LAZARUS
FABIO & GROOVERIDER
HATCHA
IRATION STEPPAS
JAH SHAKA
KAHN
LENZMAN
MALA
MISS RED
NOVELIST
O.B.F FEAT CHARLIE P & SR WILSON
P MONEY
RANDALL
SHERELLE
TECHNIMATIC
WOOKIE
YOUNGSTA
BLACK BARREL
COMMODO
CRAZY D
DARWIN
DENZ & RENZ
DIGITAL
DJ FLIGHT
DOBBY
EGOLESS
FD
FOX
GREMLINZ
J.SPARROW
JAMZ SUPERNOVA
JOSSY MITSU
L C Y
MANTRA
MC LOWQUI
MC MOOSE
MC TEMPZA
N-TYPE
SATL
SCRATCHCLART & LADY LYKEZ
SGT POKES
SHOSH
SICARIA SOUND
SILKIE
SINAI SOUND
SP:MC
YAZZUS
& MORE!
Head to our website for full details!
Boat Parties, After-Parties & more TBA
THE CELEBRATION OF 2021! 
–––––
Outlook Origins will take us back to our roots, celebrating the legends of the scene and new stars driving sound system culture forward! This is one for the bass music heads!
Sitting in its own private bay, The Garden has an amazing beachfront, hosting a number of stages across its pine covered setting. After-party action will take place at Barbarella's, one of the world's favourite outdoor venues. To ensure the Outlook vibe and spirit is maintained, we'll be installing the mighty Sinai sound system to take us into the early hours each night.
We'll be kicking things off in true Outlook fashion with a massive opening concert (on top of a fort) featuring Chase & Status, Shy FX & Dynamite MC and Children Of Zeus!