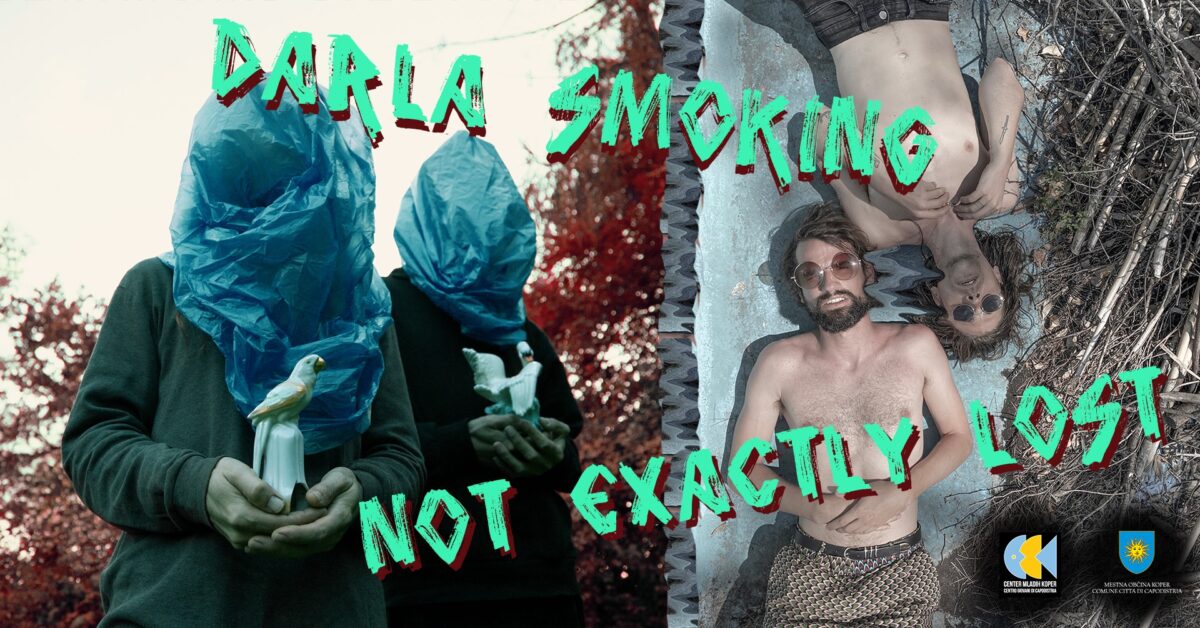 Kulturiti dvoru #2: Darla Smoking, Not Exactly Lost
Lepo vabljeni na drugi koncert cikla Kulturiti Dvoru. Slednji bo pokrival širša glasbena in multimedijska področja sodobne urbane kulture.
Tokrat nas bosta obiskala 2 dvojca: Darla Smoking in Not Exactly Lost!
Vstopnina:
-> 3 EUR za mlade do 30. leta;
-> 5 EUR za ostale.
☛ Darla Smoking
Darla Smoking se po prvencu Big Bug in plošči Pass The Bless v sodelovanju z raperji in producenti Levnijem, Stormtrap Asifehom, Ethnique Punchem in Najijem iz Turčije, Palestine in Irana posveča bitjem, ki se borijo s preživetjem in se v zadnjih slabih sto letih soočajo z izumrtjem.
Nova plošča Extinct, ki je izšla 18. novembra 2019 (Kapa Records), govori in ponovno opozori na zdesetkane Indijance brez prerije, Tibetance, ki jih silijo biti Kitajci, Maore in Aborigine, ki se utapljajo v mestni bedi, amazonski masaker nad gozdovi in ljudstvi največjih pljuč planeta, vse do zadnjega pastirja v Bolgariji, ki izumira skozi globalizacijo, poseže pa tudi v živalski zvočni svet pod Antarktiko. Predvsem pa je nova plošča izpljunila gnev, ki ga Darla občuti ob dejstvu, da kot družba že več desetletji ignoriramo in dovoljujemo vsa
ta genocidna dejanja na račun ekonomskih in političnih odnosov, ki jih gojimo v strahu pred kritiko in ultimati svetovnih velesil in mogotcev, a se hkrati ne zavedamo, da s svojo tišino ravno podpiramo vsa ta globalna dejanja, kot narodi in prav tako kot posamezniki. Extinct is the new dead.
Darla Smoking je podgurski duo prekaljenih mačkov Brgsa in Naca, ki meša raznotere vplive in zvoke, med drugim terenske posnetke iz različnih delov sveta, ki jih Nac nato elektronsko obdeluje, Brgs pa poskrbi za konstanten drive za bobni in modularnimi sintetizatorji. Njun zvok je zato večplasten, na videz so najbolj dominantni elementi world ali etno glasbe ter duba, vendar njuna glasba seže veliko dlje in se ne omejuje Koncert bo podprt z vizualijami prekaljene Atlas Skull, ki skrbi za vizualno podobo Darle od samega začetka.
☛ Not Exactly Lost
»Stara znanca domače glasbene scene se po štirih letih ponovno povezujeta v novem projektu, ki njun prepoznavni elektronski hipnotizem združuje v novo obliko. Pianist Bowrain in vsestranski umetnik KALU sta zasnovala dvojec, ki prefinjeno uteleša njuno večletno
sodelovanje. V skrbno urejeni zvočni podobi se nekonvencionalno in energično prepletajo elektronski, vokalno-instrumentalni, analogni in digitalni zvočni elementi. Njuna glasba se
izraža skozi minimalistično in unikatno igro zvokov, poslušalce pa vodi proti novemu obzorju zasanjanega popa, v katerem se nadvse splača izgubiti.« MENT, 2021
KALU (1982) je glasbenik, slikar ter glasbeni producent. Pod imenom KALU je leta 2018 izdal prvenec »Get Well Soon«. Prav tako je sodeloval z različnimi slovenskimi glasbeniki kot so »Your Gay Thoughts«, Katja Šulc, Polona Kasal…Živi in ustvarja v Ljubljani.
Bowrain (1983) je skladatelj, pianist ter glasbeni producent. Nastopal je v večini evropskih držav, Južni Afriki ter ZDA. Pod imenom Bowrain je izdal tri albume, različne single ter EP-je.
Njegov najnovejši projekt 2020Seconds(A)live je bil izdan v obliki "live" albuma v jeseni 2020. Živi in ustvarja v Ljubljani.