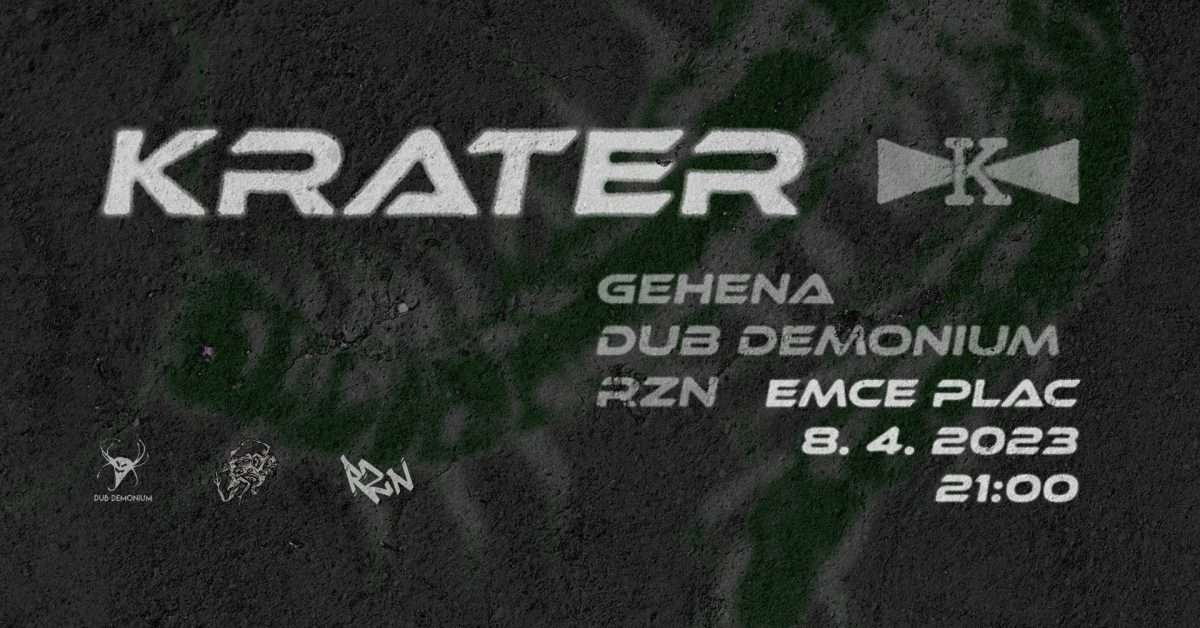 Krater w/ GEHENA, DUB DEMONIUM, RZN
Krater w/ GEHENA, DUB DEMONIUM, RZN
Vabljeni na Krater – striktno temne in najtežje skrajnosti basov, pričakujete lahko le najboljšo selekcijo bass, dub in dubstep glasbe iz slovenske scene, začinjeno z nekaj ekstra.
S svojim nastopom nas bodo iz stratosfere direkt v zemljo zabili nekateri izmed najbolj perspektivnih slovenskih DJev, selektorjev in producentov ~
Časovnica:
21:30 ~ RZN
23.00 ~ Dub Demonium
00:30 ~ Gehena
 GEHENA 
Posebni gost letošnjega prvega Krater dogodka bo eden in edini Gehena, član kolektiva Partica Artists Group, katerega zvok je na samem robu tega kar je možno doseči v elektronski glasbi. Njegov repertoar je vse od bolanih bass frekvenc, do kinematičnih vložkov, presega pa vse meje ko pride do eksperimentalnega trapa in hip-hop beatov "po svoje" ter sodelovanja s širokim in izjemno pestrim naborom emceejev – "Uncut" obvezno poslušanje. Na dogodku bo nedvomno "the go-to man" za to, da slišimo široko paleto pridihov elektronske bass glasbe.
♚♚♚ DUB DEMONIUM ♚♚♚
Nov projekt, ki Istrsko mitologijo ob poznih urah strastno kanalizira skozi mistično in temno stepper selekcijo. Letos se bo poleg našega eMCeja predstavil na Roots in the woods prepartyju poleg Burimana. V sceni je znan kot del "dream-teama" Freedom Fighters (Ras Marino) s katerim ga več let rocka na Overjamu, poleg veliko drugih eventov po Evropi, v sodelovanju z mnogimi zvenečimi imeni kot so Dubioza, Elvis Jackson, Barrington Levy, Lutan Fyah, Capleton, skratka besede odveč. Osebno vas bo na eventu povabil na Koprski Welcome to Jamcoast, kjer gosti soundsystem, prvi po domače v Slovenski Istri, all massive! Kak mention vam bo dropu še naš Mrigz. Redna selekcija vsako soboto med 21/22h na Radio Koper. Strictly roots!!
Velenje, ajde, keri poznate tole: 
https://youtu.be/DlgfAxG0IxI
https://mixcloud.com/DubDemonium
https://www.mixcloud.com/jamcoastradio
https://www.facebook.com/JamcoastSoundSystem
 RZN 
Lokalni DJ / producent / selektor in event planner, ki se je s tem stilom prvič predstavil leta 2019 v Špajzu, 2021 pa uveljavil z nastopi na Drops festival cage stageu in Roots in the woods festivalu. V zadnjem letu je aktivno izdajal serijo DJ setov in se začel postopoma uveljavljati kot producent z eklektičnim naborom stilov. Letošnji plan zaenkrat Roots in the woods preparty #4 in ponovno vsaj še Drops cage. Za pričakovat je dark in heavy set, tokrat prvič s selekcijo klasičnih in novejših dub vinilk za pristni ital vibe.