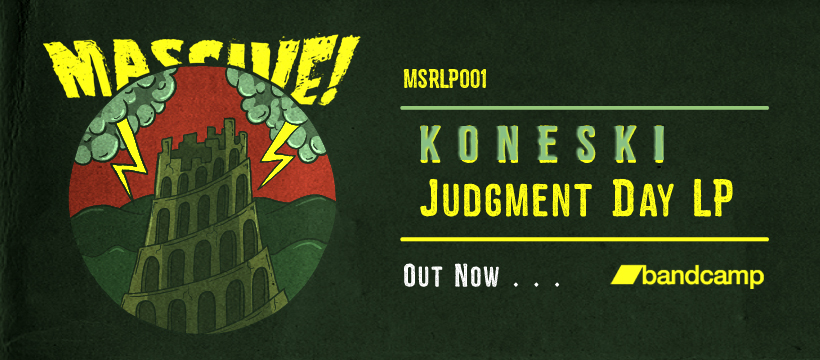 Še enkrat več se pri Massive! Sound records za svojo novo izdajo obračajo proti Koneskemu in prav je tako. Mladi producent in selektor iz Slovenije redno razkazuje svoj razkošen talent za Massive! in vsaka izdaja je vedno boljša. Zdi se, da rastejo skupaj in upamo, da bomo v prihodnosti slišali še veliko izdaj. Po "Story of Dying Sun", "Pain Elemental" in "Murda" je to četrta skupna izdaja za Massive! in Koneskega.
Če pogledamo izdajo kot celoto, lahko rečemo, da je ta spiritualno navdihnjen izdelek stepper izdaja. Slog, s katerim Koneski eksperimentira že nekaj časa, vendar je to njegova prva uradna izdaja kot takšna. Koneski nas v svojem značilnem temno obarvanem odtenku glasbe pošilja na pot svetopisemske pustolovščine. Ena skladba, ki izstopa iz celotne zgodbe, je št. 2 – Bayu Bayu. Pesem po navdihu tradicionalne ruske uspavanke, ki nam daje trenutek za sprostitev in pripravo na nadaljevanje. Opazimo lahko tudi, da je producent svojo produkcijo združil z osornim glasom legendarnega deejaya in producenta Prince Far Ija, poskuse tega smo lahko videli, bolje rečeno, slišali od njega v njegovih preteklih produkcijah.
Njihova glasba kaže, kako globoko so prepleteni z mogočnim Boris Sound Systemom. Dobite lahko pristen občutek, kako je vse podrejeno tej simbiozi. Zato, da začutite "zavaljen sub" in slišite vse frekvence, ki jih je ustvaril Koneski, vam priporočamo, da izkoristite prvo možno priložnost in poslušate izdajo na eni od zabav pod Massive! organizacijo. Po možnosti tik pred zverjo, ki jo je zgradil Boris Petovar – po katerem nosi ime Boris Sound System.
Prvi LP za Massive! Sound records je morda znak še enega poglavja na njihovi poti in bilo je le vprašanje časa, kdaj nam bodo postregli z njimi. Po EP-jih in singlih je morda pravi čas za LP. Ni presenetljivo, da je spet tisti, ki vodi ali orje ledino, taisti, s katerim so začeli založbo Massive! – Koneski.
Koneski – Judgment Day LP // MSRLP001
Izdano 03.01.2022

Zasluge:
Ustvaril: Domen Koneski
Mastering: Daniel Grintal
Dizajn: www.m7grafiks.si