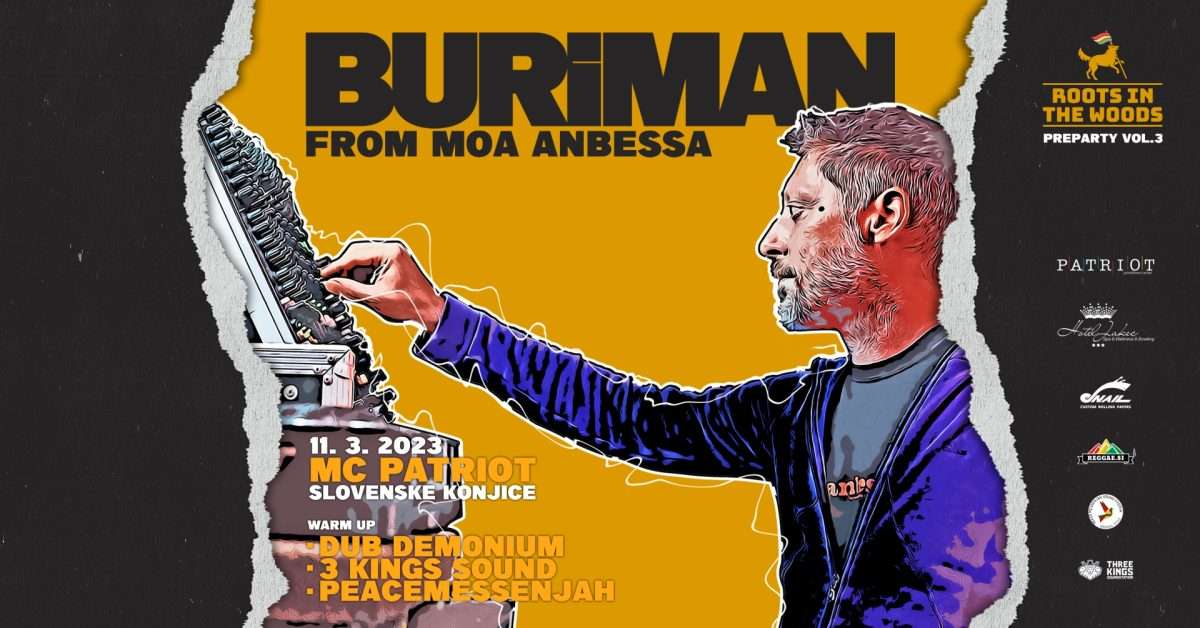 Preparty #3: BURIMAN
𝗥𝗼𝗼𝘁𝘀 𝗶𝗻 𝘁𝗵𝗲 𝗪𝗼𝗼𝗱𝘀 𝗽𝗿𝗲𝗽𝗮𝗿𝘁𝘆 #𝟯
 𝗕𝗨𝗥𝗜𝗠𝗔𝗡 (𝗠𝗼𝗮 𝗔𝗻𝗯𝗲𝘀𝘀𝗮) 
Na prelomu pomladi se vračamo v dobro znani in ljubi 𝗠𝗖 𝗣𝗮𝘁𝗿𝗶𝗼𝘁 na naš tretji Roots in the Woods preparty. Tokrat bomo plesali z Burimanom, reggae in dub producentom, soustanoviteljem projekta 𝑀𝑜𝑎 𝐴𝑛𝑏𝑒𝑠𝑠𝑎 (2001). V preteklih letih je projekt izdal številne dubplate, ki jih redno predvajajo vrhunski zvočni sistemi, kot sta Jah Shaka in Aba Shanti. Buriman pogosto gostuje po vsej Evropi, igra po glavnih dub festivalih, arenah in klubih.
 Prvič nas bo ogreval 𝐃𝐮𝐛 𝐃𝐞𝐦𝐨𝐧𝐢𝐮𝐦, ob boku pa mu bodo stali 𝐓𝐡𝐫𝐞𝐞 𝐊𝐢𝐧𝐠𝐬 𝐒𝐨𝐮𝐧𝐝 in 𝐏𝐞𝐚𝐜𝐞𝐦𝐞𝐬𝐬𝐞𝐧𝐣𝐚𝐡 𝐒𝐨𝐮𝐧𝐝𝐬𝐲𝐬𝐭𝐞𝐦.
 𝗩𝘀𝘁𝗼𝗽𝗻𝗶𝗻𝗮: 𝟭𝟬€
_______________________________
 𝗕𝗨𝗥𝗜𝗠𝗔𝗡 (𝗠𝗼𝗮 𝗔𝗻𝗯𝗲𝘀𝘀𝗮) 
At the break of spring, we are returning to our well known 𝗠𝗖 𝗣𝗮𝘁𝗿𝗶𝗼𝘁 for our third Roots in the Woods preparty. This time we will be dancing to and with Buriman, a reggae and dub producer, co-founder of the project 𝑀𝑜𝑎 𝐴𝑛𝑏𝑒𝑠𝑠𝑎 (2001). Over the years they have produced various dubplates and releases, regularly played by top sound systems like Jah Shaka and Aba Shanti. Buriman is frequently touring all over Europe, playing at the main dub festivals, arenas and clubs.
 𝐃𝐮𝐛 𝐃𝐞𝐦𝐨𝐧𝐢𝐮𝐦 will warm us up for the first time, and he will be joined by 𝐓𝐡𝐫𝐞𝐞 𝐊𝐢𝐧𝐠𝐬 𝐒𝐨𝐮𝐧𝐝 and 𝐏𝐞𝐚𝐜𝐞𝐦𝐞𝐬𝐬𝐞𝐧𝐣𝐚𝐡 𝐒𝐨𝐮𝐧𝐝𝐬𝐲𝐬𝐭𝐞𝐦.
 𝗧𝗶𝗰𝗸𝗲𝘁𝘀: 𝟭𝟬€